Blog

We LOVE Supporting LOCAL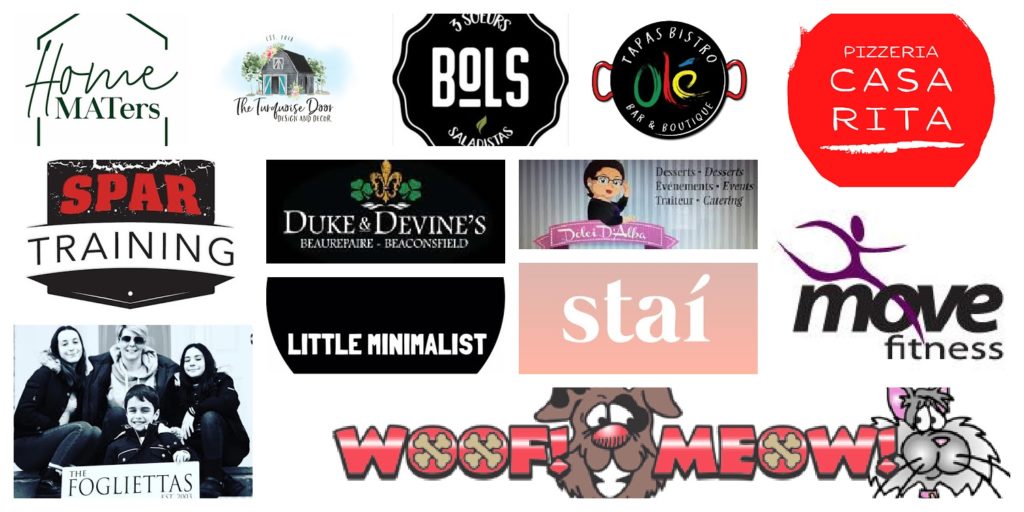 Looking for great Holiday gift ideas? Stocking Stuffers? Check out some of our Favorite local small businesses - Work-out options, Clothing, Home Designs....and when in doubt, Gift cards to all of these wonderful spots.
Do you have a small business? Or want to give a shout-out to one? Don't be shy! We're always looking to try new spots and to support our community.
Happy Holidays everyone!
CASA RITA - The new Restaurant down our street (Beaconsfield)
https://www.pizzeriacasarita.ca/ or https://www.facebook.com/pizzeriacasarita
BUSY MOM OF 3 - Super cute CUSTOMIZED Holiday decorations and Glassware **Great Teacher gift also!
https://www.facebook.com/busymomofthreekids
Move Fitness - A fabulous ladies fitness group - now (during COVID) offering 6+ workouts per week via ZOOM - work out together...while staying apart! Never a dull moment!
https://www.facebook.com/MOVEFitnessMontreal/
Duke and Devine's - Tried and True...one of our family's favorite spots. They also offer different weekly baskets, prepared soups and my favorite, Jalapeno jelly!
https://dukeanddevines.com/ or https://www.facebook.com/Duke-Devines-Beaconsfield-Beaurepaire-968240353262721
Dolci-Dalba - After dinner you need dessert - Perhaps the most beautiful cakes we've ever seen! cookies, cakes, pies, squares....you name it, they can do it. Oh, and they're all calorie free.... yeah right! A must try!
https://www.instagram.com/dolci_dalba/
SPAR Mtl - One of my Gyms - when it opens back up, definitely worth a visit. Check out Kevin's LIVE streams online
https://www.facebook.com/spartrainingmtl or https://spartrainingmtl.com/
Ole Tapas - A family run Spanish Tapas Restaurant in Ste-Anne-de-Bellevue. You just have to try it! Best option for sharing with your family!
https://www.oletapas.ca/ or https://www.facebook.com/oletapasmtl
Woof Meow - Located in the Bearepaire Village, this is where we buy all the good stuff for our cats (we have a lot of them) - Owned by two brothers, these guys know their stuff and stock their shelves with quality products, often made in Canada!
http://www.woofmeow.ca/ or https://www.facebook.com/boutiquewoofmeow
Home Maters - Custom door mats (and other great products) - So many stock holiday options or opt for a welcome mat with your family's name onit! There is no limit to the creative options!
https://www.instagram.com/homematers/ or https://www.facebook.com/homematers
Shop Stai - Who doesn't LOVE Tie-Dye?? Stunning sweatshirts; unisex, mom & me options - customize or pick from the seasonal colors
https://www.instagram.com/shopstai/ or https://www.facebook.com/shopstai
3 Soeurs Bols - Oh so much more than salads!! My favorite is the Bougie Bowl; They offer individual portions, family style, prepared meals and catering - whatever you need, they'll make it happen! Now offering the market - pick up your food and shop ... all while supporting some other local businesses!
https://www.facebook.com/3soeursBOLS or http://www.3soeurs.ca/

Little Minimalist - Montreal based online shop for the wee-ones! This is our Go-to shop for everything in baby apparel...we only wish they offered these cute outfits for adults!
https://littleminimalist.ca/ or https://www.facebook.com/littleminimalist.ca
The Turquoise Door Design and Decor - You will fall in love with these custom design signs - We have trouble only picking one thing!!
https://www.facebook.com/theturquoisedoordesignanddecor or https://www.etsy.com/ca/shop/TheTurquoisedoor2018

Show your support and check all of these great places out! You won't be disappointed.